Radiant, Beautiful and glowing skin is not only a dream of every woman but a man also. People love to have great glowing skin as it not only makes them look younger and healthier but also boosts up their confidence along with making them prominent in others. So if you are in search of ways to make your skin smooth, glowing and flawless without spending too much on artificial and risky treatments, here's how you can make your dream come true with simple DIY remedies.
Daily Exfoliating For Whole Body's Skin
Dead cells on skin make it look dull and unhealthy so in order to get rid of those dead cells, exfoliation is the best option to go with as it cleans and tones skin by removing dead cells and impurities from it. You can exfoliate your it with scrubbing crème or you can use following homemade scrubs for this purpose.
Oats scrub
To prepare oats scrub, take about half a cup of oats in a bowl and pour some lukewarm water or milk enough to soak and soften them. Wait for about 5 minutes and then mix both ingredients well to make a thick paste. Apply this paste on your skin and scrub with it in a circular motion. Continue scrubbing for about 5 to 10 minutes and then wash your skin with cold water.
Pulse flour scrub
To make this scrub take about 2 to 3 tbsps of pulse flour in a bowl and 1 tsp of turmeric powder in it. Pour some lukewarm milk and mix all ingredients well to form a thick paste. Now apply this paste on your face or other dull areas of your body. Start scrubbing with this paste and continue for about 10 to 15 minutes. Now rinse off your skin with cold water to get required results.
Rice flour scrub
To make rice flour scrub, take a half cup of rice and wash them well under running water. After that let them soak in about a quarter cup of water for about 15 to 20 minutes. Rinse off water from soaked rice and add 2 to 3 tbsps of fresh milk in them. Make a paste by using your blender. You can add more milk if needed to get enough density of the mixture. Now apply this mixture on skin, let it dry. Now rub your skin gently till all material falls off. At the end wash your skin with cold water.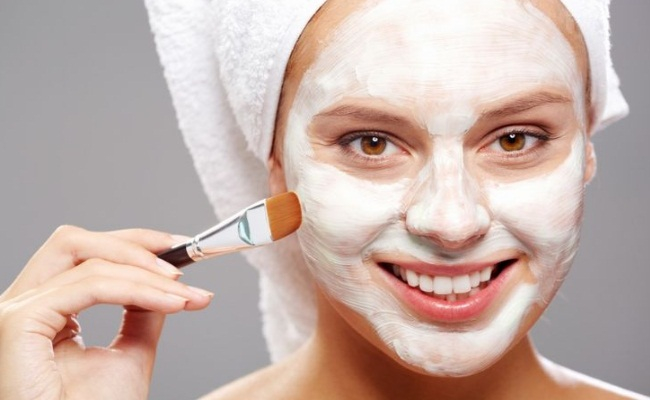 Exclusively For Facial Skin
Ice Cube Rubbing
Rubbing of ice cubes on the skin can make blood circulation better. It also helps to cure puffiness of skin due to any reason. So if you want to get smooth and glowing skin, make it a habit of rubbing ice cubes especially on your facial skin daily. It lessens all puffiness especially under eyes hence making skin look fresh and beautiful.
Tomato face pack
Tomatoes just as lemons are considered as a natural bleaching agent. So if your skin is becoming dull you can use tomato face pack to brighten up your skin naturally in no time. All you have to do it to make a thick paste of peeled tomatoes and apply it on your skin. Leave it there for about 15 minutes. After that remove the face pack with gentle scrubbing and wash with cold water. It will not only make skin glowing but will also lighten its complexion due to its bleaching properties.
Fuller's Earth Face pack
One of the ancient remedies to make skin glowing and smooth is to use fuller's earth face pack. Soak a chunk of fuller's earth in some lukewarm water or milk. Make a thick paste of it and apply on skin. Massage your face with this face pack for about 10 minutes and wash it off with cold water before getting it dried.